These light and fruity mince pies are easy to make and work out at less than 1g fat each. You can even make the mincemeat in advance and store it in the fridge.
This mix makes approx 24 mince pies
450g of mixed dried fruit (sultanas, currents, raisins, cranberries, or use a ready made mix for an easy life)
50g of glacé cherries, washed and quartered
100 ml flavoured black or green tea of your choice ( Christmas blends are available, or sweet blends such as salted caramel )
Juice and zest of 1 orange or 2 clementines
Juice of 1 lemon
A few drops of Rum or Brandy Essence to taste ( optional)
100g brown sugar, treacle or honey ( you can replace with a sugar substitute such as Spenda, as per their directions approx 4tbsp)
1 Bramley apple, washed, cored and finely chopped (no need to peel)
2 tsp of Mixed Spice
¼ tsp cinnamon
Pinch of ground nutmeg
For 12 mince pies you need 3 sheets of filo pastry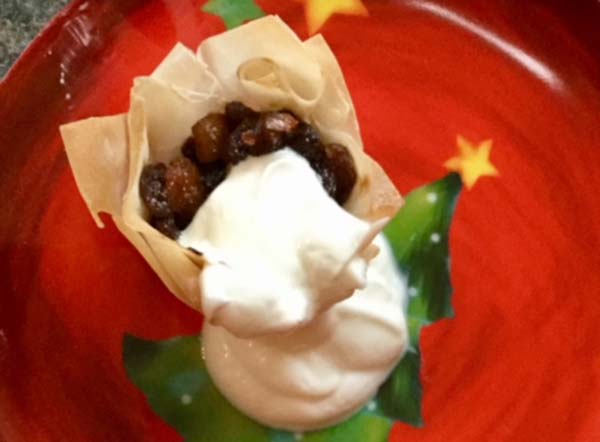 Please don't be put off by the long list of ingredients or directions – it's actually a very straightforward recipe. You can even make the mincemeat in advance and store it in the fridge until you want to fill the pies. If you find lining small muffin tins with pastry too fiddly, try making up one large mince pie with the filo dough.
Cream alternative to accompany your mince pies - Why not try fat free/low fat quark sweetened with icing sugar, or sugar substitute to your taste adding a few drops of your favourite flavouring essence. As a general guide, for each 50g of quark use 25g Splenda.